Centech Communication JSC participated in "Ride for the Bears 2014" activity as a golden sponsor
On the occasion of April, 19th in 2014, Centech honourly had a great chance to join in Ride for the Bears 2014 activity. Beginning from "Together keep the House of Bears" campaign to prevent the eviction of Vietnam Bears Rescue Center at Tam Dao National Park in Vinh Phuc province, Ride for the Bears was created.
In 2013, this event attracted the attention of hundreds of people in internet as well as many media and press units, especially over 100 people directly participate in the journey, both Vietnamese and foreigners.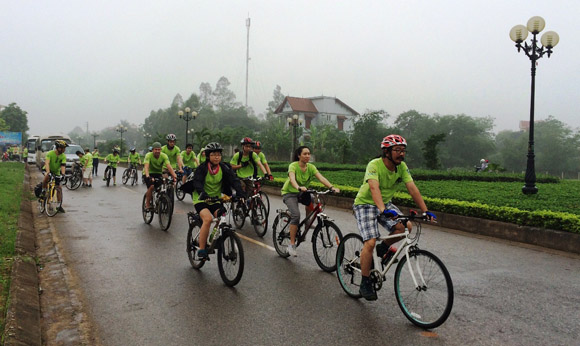 It is a 132-kilometer journey from Hanoi to Bear Rescue Center in Vietnam and vice versa
To continue the popularity of this program, Ride for the Bears 2014 came back and set a goal to become an annual activity of the youth group Action Bear and Animals Asia organization. This event has intentions to raise awareness of people about the conservation of wildlife animals in general and Vietnam's bears in particular. Especially, this year, R4B 2014 had many interesting activities that you could not miss out, such as: Pre-event Contest: "5 star dinner with R4B"; Graffiti painting; Visit the House of Bears; Lucky draw with the high value prizes from the sponsors. It also promoted awareness of sports training as well as the significance of cycling for environmental protection. So Only 2 kinds of vehicles were accepted: Bicycle or Bus/Car (no accept any other one).
Everyone who has love and concerns about environment activities, has enough health could take part in this activity.(irrespective of age, gender, nationality). Journey is from Hanoi to Tam Dao National Park, Vinh Phuc province. Between it has a rest station for the riders to get more energy by nutritional bisques, bananas and tonic drinks. In addition, a volunteer team also accompany with groups on the way to support the situations as nails suction, bike repair, broken bike transport, ambulance, water…etc. All participants had a meeting before the event.
More interestingly, Kids could register to ride the last 8 km. Organizers picked them and their own biked up to the meeting place by the trucks and they must ride with at least a relative. They started moving later for meeting group 1 at the same time.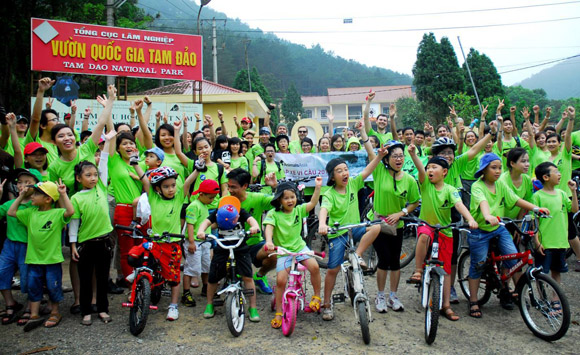 " The participation of all kid members created jubilant atmosphere with fun finish"
Mr Minh Duc Nguyen – representative of Centech JSC company – said that " It's our pleasure to have an opportunity to experience in this meaningful activity. , this event attracted the attention of hundreds of people in internet as well as many media and press units. This event not only has been considered as a helpful and significant social activity but also has raised children's high concern about environment eco-system's conservation. We are very happy with the success of this journey and put a high hope that Vietnamese people will remain it to become an annual activity".